Whether you have access to a bunch of equipment or just your living room floor, workout out at home doesn't mean you're "stuck" inside… Here's a few quick and easy workouts to do that if done several times a week, will result in a stronger, leaner & healthier "YOU"! (Which includes you, your kids, and anyone else willing to step out of their comfort zone and put the excuses to the side!
Always consult with your physician before starting a new workout regimen, and always perform a few minutes of dynamic stretching/warm up before starting each workout, and follow up with a cool down consisting of slower breathing and more active, isometric stretching.  Good Luck and ENJOY!
Each workout below is intended to cover full body strength and conditioning which will ABSOLUTELY improve your health, along with a reasonably balanced nutrition plan… for more information, email us at: info@threesixtyfitness.com today…!
Workout # 1 – The Living Room Crusher: Perform this solo or in a group, give yourself at least an extra foot or two beyond your arms reach to avoid crashing into your workout buddies.
25 Minutes AMRAP (As many ROUNDS as possible – 10/15 Reps Each, or 30/45/60 Seconds Each – Your Choice)
"T" = Time Based, "R" = Rep Based
T – Jumping Jacks
R – Prisoner Squats (Jump Squat Optional)
R – Push Up's (Plyo or Incline Optional)
T – Alternating Cross Body Crunches
T – Side/Low/High Planks
R – Narrow Push Up's "Elbows In" (Optional Pyramid Push Up's)
Challenge your kids to keep up with you, or your spouse, partner or FaceTime your cousin and see who can crush this with you (Even from a distance…!)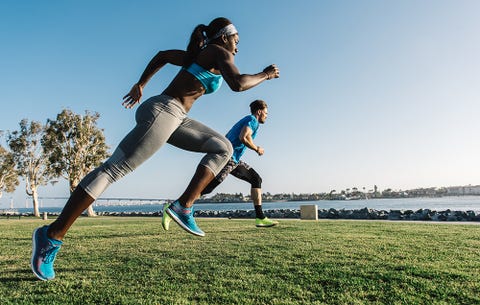 Workout # 2 – The Full-Body Sprinter: whether you have a street that's safe to perform this, or a nearby school/track/park/playground, make sure the area is safe and that your warm up includes looking for any uneven surfaces which could cause an unfortunate fall/rolled ankle.  Be Safe, but Have Fun…!
Although this workout is focused mostly on conditioning, I promise you your lungs and legs won't be the only parts of your body sore from the work… avoid over rotating while running and keep your body in alignment, relax and crush it…!
30-45 Minutes of Intervals of Walking, Jogging & Sprinting – Know your current fitness level and modify accordingly.
Round 1 – a light warm-up
Walk or Jog for 5 minutes to get the HR up and body warmed up a bit… move those arms and legs and get the blood flowing.
Round 2 – Jog / Run it out for intervals, changing your pace from comfortable to slightly uncomfortable every 30 seconds… if you can't maintain the 30 second push, drop it down to 30 seconds comfortable, 15 seconds of slightly uncomfortable.
Round 3 – Sprinters, find a safe place to allow you to push your limits and pump those arms from front to back while you perform sprinters of 10 seconds while you then slowly jog it back to your starting position and repeat once again.  Perform this round for no more than 2 minutes.
Repeat rounds 2 and 3 for a total workout time of up to 45 minutes including the warm up, and then as always, cool it down.
If you have any questions or would like any other variations of workouts to keep you and your family on point, feel free to email us at info@threesixtyfitness.com and put "WAH – Workout at Home" in the Subject Line.
More to come, this is just the beginning… Version 2.0 Initiated